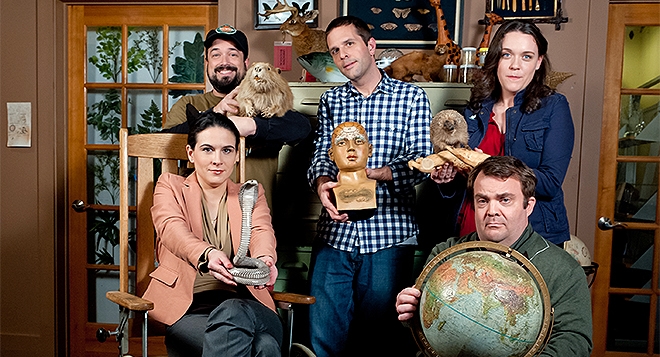 STUFF YOU SHOULD KNOW POST PRODUCTION – Check it out and see our handy work. 
For video clips see Official Site @ StuffYouShouldKnow.com
We are currently post-producing the brand new Science Channel television series, Stuff You Should Know.
Each episode follows Chuck and Josh, real-life podcasters, on a hilarious, and informative adventure meshing fact with fiction within a fictional "the Office-esque" corporate world, all the while sharing real facts about technology, the world, the universe and beyond.
The premiere episode comes out this Saturday at 10 pm on the Science channel. You can also download this first episode for free on iTunes the following Sunday after the premiere.
---
CLIENT
Discovery; Science Channel
AGENCY/PRODUCTION
School of Humans
DIRECTOR
Chad Crowley
EDITING
Michael Goldberg
LINK
Official SYSK website and blog.
---
An Interview with the guys on iHeart Radio:
How does it feel to go from the world of podcasts to the mockumentary world of television?
Josh: I play myself, but I am also playing a characterized version of myself. So, that one slight degree of removal makes a world of difference in making fun of myself, or reacting to situations in ways that are a little different than I would act in normal life. When recording the podcast, I am aware people will eventually listen to it, but I am still myself while doing television has been different and I have to say I have enjoyed the process.
Chuck: For me doing the series feels the same as my entire career has felt up to this point – like a gift. It is a gift that I wake up to each day and am very much appreciative of and I am really enjoying it all.
What is your favorite episode of the show you have shot so far?
Josh: For me, it is definitely the Alien Hand episode. The actor who played Neil, the man afflicted with Alien Hand Syndrome, was actually beating me up throughout the shoot. He was holding back at first and I encouraged him to really let me have it and he did. What you see in the episode is me holding back from smacking him in return. It did not require much acting on my end!
Chuck: I would have to say the Personal Space Travel episode featuring John Hodgman as our guest star. I am big fan of John's and really enjoyed shooting that particular episode.
You guys have a lot of celebrity guest appearances on your shows, who is on your wish list of dream guests?
Josh: I would have to say Tom Selleck. I'm a huge Magnum PI fan and that comes through in the TV show from time to time. Having Selleck on would be cowing.
Chuck: My dream list would consist of mainly comedy actors – Jack Black, Ken Marino, Paul Rudd, Zack Galifinakis, Rob Huebel, Malin Akerman, Megan Mullallay, Amy Poehler – to name a few!
Why the Science Channel for your transition from podcast to TV series?
Josh: I cannot think of a better network – in or out of the Discovery family – where we would be a better fit. The risks that Debbie Myers (executive vice president and general manager of Science Channel) of and her are willing to take and the support they give us makes Science Channel feel like another home to us. Because of all this, Science Channel feels like the perfect platform to learn and grow and get better along the way.
Chuck: Science Channel is a great fit for us because we try to cover the cool scientific aspects of most of the topics that we explore. And the network is very forward thinking and inspiring in the content they are putting out into the world.
What is next for Josh & Chuck?
Josh: If we are following the trajectory established by Bob and Doug McKenzie, as I suspect we are, then I would guess a feature-length movie involving us and brewery will be next.
Chuck: Continuing with our podcast, and fingers crossed a season two of STUFF YOU SHOULD KNOW on Science Channel!
---
More about Moonshine Post:
"Moonshine is a full service post-production house with world-class facilities in the Old Fourth Ward neighborhood of Atlanta, Georgia. Surrounded by a solid team of artists, supervisors and technicians the company has many years of experience, and a consistent track record for delivering creative work on time, on budget, and with exceptional service.
When we're not servicing Commercial Stories, Broadcast Episodics or Big Screen Deliverables, Moonshine is making movies. We have strong roots in the Atlanta film and indie scene and not only do we recognize the importance of cultivating talent but also in collaborating with new talent – we do this for the sole reason we started our business: better storytelling."